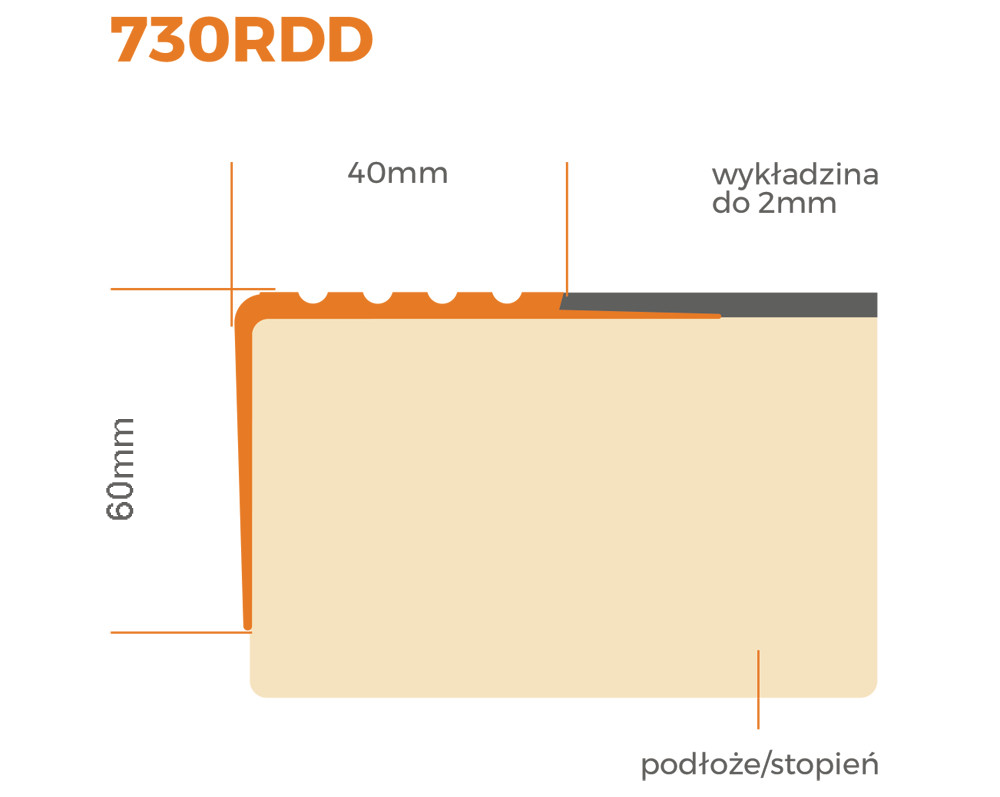 Technical data
Width: 40mm
Height: 60mm
For carpet with a thickness of: up to 2 mm
Application and Properties:
high-quality profile for use on stairs and communication runs
for steps ending "straight"
easy assembly
compatible with the Quest®Profile stair system
made of a special PVC mixture
creates an aesthetic finish of the steps,
protects the edges against mechanical damage.
protects against slipping and falling - the grooved part of the slat ensures safe use of the stairs
easy to clean - special shape of the grooves
increased number of grooves compared to other products on the market
does not contain harmful compounds for humans and animals
aesthetic appearance and a wide range of colors
highly flexible product - "shape memory"
does not require maintenance
over 20 years of experience in the production of stair profiles
solid packaging - safe transport
ASSEMBLY - Instruction
assembly should take place at room temperature. In the event of low temperatures, the profile should be heated before installation using warm air or water
clean and level the surfaces of the stairs
cut the profile to the exact step width using a QUEST® knife or shears (view product)
apply assembly glue according to the glue manufacturer's instructions or use QUEST® adhesive tape (see product) by sticking it ONLY on the entire surface of the top part of the profile (do not glue the vertical lip to the step)
press firmly to the degree and allow the glue to dry
in case of using QUEST® adhesive tape, the steps can be used after 3 hours.
ASSEMBLY - QUEST® adhesive tape
A versatile, double-sided reinforced adhesive tape, ideal for mounting profiles on stairs. It is used for quick and permanent bonding of floor, construction and finishing profiles, carpets, roofing membranes and others to concrete, wood, metal, ceramics and especially difficult surfaces such as foam, felt, EPDM, PVC, rubber or bitumen. The so-called "everlasting" adhesive retains its properties for many years, extremely resistant to moisture and aging.